Monday Oct 31, 2022
Border Rivers Trade Audit - how different trading rules can cause issues when water crosses two jurisdictions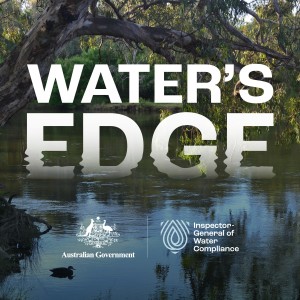 Join the Inspector-General of Water Compliance's Audit and Investigations team, as they take a look at the latest audit – based on trade in the Border Rivers Region. The Border Rivers Region covers a section of Northern NSW and Southern QLD, and there are separate trading rules across the two jurisdictions. This audit by the Inspector-General identified issues such as water being traded from one state, but not appearing in an account in the other state, incorrect volumes being recorded, and manual adjustments being made by authorities without documented explanations.
To view the audit report in full, or a brief Snapshot overview, visit www.igwc.gov.au/reviews-reports
Host Annabelle Hudson is joined by the Inspector-General Troy Grant, Deputy Inspector-General Daniel Blacker, Director of Audit and Investigation Matt Wilkes, and Assistant Director of Audit and Investigation Elliot Raboy.