Friday Aug 19, 2022
Sustainable Diversion Limit Statement of Compliance - what is it and why is it important? Why is NSW behind and what are the consequences for not having a Water Resource Plan?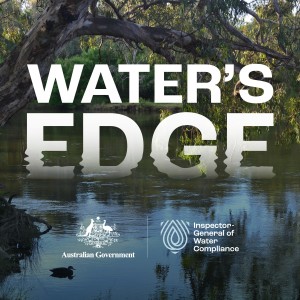 In this episode, join the Inspector-General of Water Compliance Troy Grant and Director of Compliance Monitoring Edwina Carter as we dive into the Annual Statement of Compliance for Sustainable Diversion Limits (SDLs). NSW is behind with submitting its Water Resource Plans, so Troy explains why he's worried about the late submissions, and what it means for the communities in the Murray Darling Basin.
To read more about the Statement of Compliance, visit www.igwc.gov.au.
Intro music by Leigh Robinson from Pixabay.
Functions of the Inspector General
IGWC function 
The new statutory role of the Inspector-General of Water Compliance (Inspector-General) brings together the Commonwealth's responsibilities into a single statutory office.
The Inspector-General will also have the compliance and enforcement functions currently held by the Murray-Darling Basin Authority.
The new Inspector-General of Water Compliance will have regulatory powers under Commonwealth law.
The Inspector-General will be able to work across the whole Basin to strengthen compliance, increase transparency and improve trust.
The Inspector-General will provide independent oversight and monitoring of Commonwealth and Basin state compliance.
A key priority for the Inspector-General will be to encourage greater consistency in the guidelines and standards across the Basin—so all water users are held to the same high bar. To do this, the Inspector-General will have new powers to make guidelines and standards, which will help build greater consistency across the Basin.
The Inspector-General's main areas of compliance responsibility are:

monitoring and auditing of water resource plan compliance
investigating and enforcing non-compliance with sustainable diversion limits and assurance of Basin state compliance and enforcement frameworks, through audits and investigations
supporting the development and implementation of standards and methods to improve the accuracy of water measurement to increase the transparency of water take across the Basin
enforcing compliance with the Basin Plan water trading rules
monitoring and reporting on the requirements of the Basin Plan and water resource plans related to the protection of planned environmental water

The MDBA will retain its roles in:

assessing water resource plans
SDL accounting and reporting and
the development of remote sensing and emerging technologies and the evaluation of Basin Plan outcomes